We may earn money or products from the companies mentioned in this post.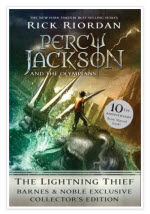 Can you believe it has been 10 years since Rick Riordan first released Percy Jackson and the Lightning Thief? Many readers are just finding it for the first time because its popularity has continued in the decade since it was first published.
In celebration of the anniversary, Barnes & Noble is offering a special edition of the book for $11.15. Riordan describes it in full detail as well as pictures on his official blog. Some of the features include:
Hardcover with new artwork by John Rocco
International cover art
Maps of Camp Half-Blood and Underworld
Behind-the-scenes exclusives
Even if you have a copy of the original book, this special anniversary edition would make a great addition to your collection!